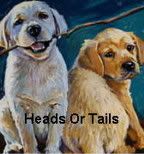 If you click on the graphic above, it will take you to the awesome HoT blog where you can sign up and start participating in this fun and popular meme!
This week's theme is HEADS -"Case" or TAILS - "Anything that Rhymes with Case".
Miss. Maggie May, a.k.a. Puppy Doodles, a.k.a. Doodle Puppy Face
would like to cordially invite you to her 2nd Doggy Bloggy Birthday Bash
this weekend. It will be at the same place as last year...
(right on this here blog, y'all).
Maggie tried to get Mommy to pin down a time for her bash,
but Mommy pleaded a good case with the whole
'workin-four-jobs' thing (she always brings that up, excuses excuses).
So, we'll have to figure that out later.

(c) Misty DawnS
We sure hope to see you there!
It's a good thing the Blogosphere is a
big
place
with lots of
space
cuz Maggie has LOTS o' friends!
Oh, and if you know Maggie, you know that she doesn't have
Ferrari parts
on her birthday list; anything to chew on or
chase
will make her a happy birthday girl!