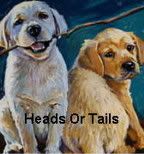 If you click on the graphic above, it will take you to the awesome HoT blog where you can sign up and start participating in this fun and popular meme!
This week's theme is HEADS -"Legend". So, I'm giving you a legend of a subject that is very near and dear to my heart. OK, actually, a particular 'someone' that fits into this subject
owns
my heart.
(c) Misty DawnS
The Strength of the Wolf
The spirit of the Wolf resides in my heart
Mostly peacefully, yet ever wild
Running in time to the blowing wind
Dancing in the clouds that drift in the Heavens.
The spirit of the Wolf resides in my soul
Longing to hear the song of the Great One
Striving to be that which I am in my natural state
Succeeding only because of the Love that the Universe grants me.
Theme from Dances with Wolves
(c) Misty DawnS
When I visited Ohio in November, I had submitted my resume and application for a position at the medical college. I really wanted this opportunity. So much so that when Dad, Matouk, and I were on a walk in the woods, I said , "Hey Toukie, I have strong belief in your spirit. Would you please send that spirit to Missouri and tell the people at the college to interview Misty?"
Dad and I both smiled at each other and continued our walk. The next day, Matouk and I waited for Dad to get home from work. Then, the three of us headed out on our daily walk. When we got to a clearing in the woods, Matouk sat down, like he just wanted to take in the fresh air. It was then that my cell phone rang, and, upon answering, I was asked if I would like to interview for the position at the college. When I hung up, Matouk was just looking at me. I hugged him and told him thanks. He just got up and started walking like, "OK, let's go on our walk now that we've taken care of that."
Never underestimate the truth to the legend of the the spirit of a wolf. I'm just sayin'.
OK, I'm going to shop online for Discount Blinds now. Thanks for visiting!
* * To find more wolf legends, myths, and fables, visit wolfcountry.net* *