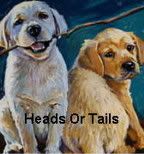 If you click on the graphic above, it will take you to the awesome HoT blog where you can sign up and start participating in this fun and popular meme!
This week's theme is TAILS -"A Love Story". Let me tell you about the greatest love story I've ever known...
Now, I'm going to tell you about a love, a love so strong that nothing could take it away.
My grandmother's father did not talk to her for eight years, because she married my grandpa. They had their first child, before he chose to talk to her again. He thought that my grandpa wasn't good enough for my grandma, because Grandpa did physical labor for a living.
My Grandma's father made the comment, "He won't even be able to keep you in stockings.", because back then, pantyhose were not easy to come by. My grandmother had been in the nursing home for over eight years, and my grandfather was still ordering pantyhose from the company that he had signed her up for when they first got married.
Every day, he drove to that nursing home to be with her. He became a fixture in the home. Everyone knew Jim, and people would make a point to come in to sit and talk with him. When his heart problems got too bad, he became restricted to a wheel chair, and his daily visits to the nursing home had to stop. You might as well have killed the man.
His wife, and his dedication to his wife, was what made him who he was. On my Grandpa's last Christmas with us, we were given the greatest holiday gift that anyone could ever be given. There was a very special nurse at the nursing home. His name was also Jim. Jim got up on Christmas morning, went to the home, dressed my grandma in her Christmas sweatshirt and a Santa hat, loaded her and her wheelchair into the van, and brought my grandma to my grandfather. When he wheeled her into the room and my grandpa saw her, there wasn't a dry eye in the house. Jim, that wonderful man, gave up his Holiday day off to do this for my grandfather and for us. I love that man for his caring and his generosity, and I know that God was using him as an angel for us.
This same wonderful man brought my grandma to the funeral home for her husband's calling hours. Even if she didn't realize what was happening, he still did so much for us as a family.
Now... let me tell you about
Japanese Magnolia trees
... Nah, just kidding ;-)