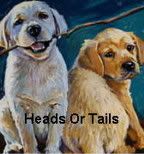 If you click on the graphic above, it will take you to the awesome HoT blog where you can sign up and start participating in this fun and popular meme!
This week's theme is HEADS -"Common". When I took this photo in June, I was extremely excited to show it to my friend,
Bear
, because we each have a love of nature, animals, and, yes, bugs. I had seen these gigantic, helicopter-sized dragonflies flying around all over the place, but was unable to get one to hold still long enough for me to take a photo. When I got this photo, I excitedly rushed home to show Bear. He replied with, "
Common Green Darner
". I replied with, "BEAR! First of all, it's
BLUE
! Second of all, there's NOTHING 'COMMON' about this gorgeous bug!" Bear laughed (and probably shook his head) and informed me that he was not insulting my captured critter, he was simply telling me the technical name of it. Ohhhhh, O.K. then. So, here it is, and, trust me, there's NOTHING 'COMMON' about this cool creature!
(c) Misty DawnS
I've been up since 2 a.m. No, this isn't 'common'... It is due to the storms we had last night, which produced winds which made me think my bedroom window was going to be blown right out of the wall and onto my bed. I'm sure I'll be exhausted by this afternoon and wishing I could climb under my desk to take a name and dream about
laptop deals
. What? Isn't it common to dream about laptops?