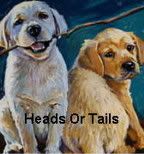 If you click on the graphic above, it will take you to the awesome HoT blog where you can sign up and start participating in this fun and popular meme!

This week's theme is HEADS -"Point".

I'm sure, if you think about it long enough, you can figure out why I chose these two pictures for the theme "point". Can't figure it out? Oh come on, you're not thinking hard enough.

(c) Misty DawnS
P. S. If you want to read about a neat
point
in time which took place last week, scroll down to the next post. I got to meet the hostess of this fun meme, and it was a lot of fun and full of a lot of laughs!