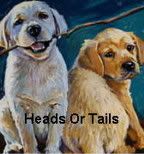 If you click on the graphic above, it will take you to the awesome HoT blog where you can sign up and start participating in this fun and popular meme!

This week's theme is HEADS -"See".

This Robin was obviously
very
shy, so it
decided to pretend it couldn't
see
me.
Either that, or it was trying to
see
where
that itch under its feathers was coming from.
Or, perhaps it was trying to
see
how life would be
as a headless Robin.
(c) Misty DawnS
These are some deer, which scared the crap outta me,
because I was focused on some birds when I walked
right up on these deer without
seeing
them.
After they took off, all I was
seeing
was the tail!
(c) Misty DawnS