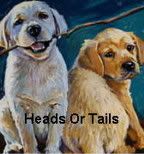 If you click on the graphic above, it will take you to the awesome HoT blog where you can sign up and start participating in this fun and popular meme!

This week's theme is TAILS -"Springtime Memory".
I have lots of Springtime memories... especially after moving to Missouri. Too many memories of sitting on my floor reassuring my fur-kids that 'It's O.K. It's just thunder. Calm down'. Yes, we get many storms. In fact, it has been raining here for three days. Saturday and Sunday involved thunder, rain, lightning, rain, HAIL, and... RAIN. As a result, we've got flooding. To top it off, the winds are supposed to get up to 40 MPH by this evening with windchills of zero. Can you say "black ice"? UCK. I'm tellin' ya - Mother Nature hates me!
There are, however, good Summertime memories too - flowers, beautiful sunsets, and...

Time with these two beautiful girls...
"Let's remember this Spring day forever, Sis.
Give me a lil' kiss!"

(c) Misty DawnS
P.S. I apologize for posing so late - ESPECIALLY since I'm the
guest host
of Heads or Tails this week! My internet connection was on the fritz last night, and I couldn't get anything done. You guessed it - it was due to the storms. :-(