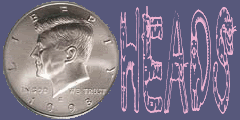 If you click on the graphic above, it will take you to the awesome HoT blog where you can sign up and start participating in this fun and popular meme!
Well, for this week's Heads or Tails, we are supposed write about a time when we felt brave or showed bravery.
Some people may be expecting me to write about the
tornado
again. However, that, in my opinion, had nothing to do with bravery. I didn't do anything brave in that situation. Huddling on a floor and praying has nothing to do with bravery.
So... I had to think long and hard on this one. "My gosh," I thought to myself, "you mean I've NEVER been brave?!?!" I really started feeling like a big, wimpy failure. For real.
So, I told Hubs my dilemma, and he didn't even hesitate in saying, "When you moved 800 miles away from your family and friends, came out here where you didn't know anyone and didn't have a job, and never hesitated to do what needed to be done."
"You think that was brave?" I asked. "I just did what I did for my husband and our marriage." I continued.
Hubs insisted it was brave, while I stared at him in shock. To be honest, I never thought of moving out here as brave, and I would have never, ever thought that he considered it as that. Hey, I'm just being honest here.
So, that's my post of bravery. When I didn't consider myself as such, apparently others did.