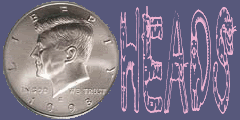 If you click on the graphic above, it will take you to the awesome HoT blog where you can sign up and start participating in this fun and popular meme!
This week's theme is HEADS - "Wear" or TAILS - "Where". I've decided to use "Wear". I want to tell you about one of my favorite television shows - What Not To Wear. Why is this one of my favorite shows? Well I'll tell you. I have absolutely no fashion sense, and now that I'm in a more professional employment position, I need to dress the part. This would be the reason our DVR is set to record each and every single episode of What Not To Wear.
I also have a little addiction of seeing the 'reveals'. That's when the participant comes out in the outfits that he or she learned how to put together after learning from the style gurus, Stacy London and Clinton Kelly. Ohhhhh and the hair and makeup makeover is one of the best parts of the show too. I just love the beautiful Carmindy, who is the show's makeup artist. I would be absolutely over the moon just to have the show's stylists do my hair and makeup!
The only thing I don't like about the show is that you receive $5,000 for a new wardrobe, and then you go to New York City to spend that $5,000. Let me tell ya, I could get a LOT of clothes with $5,000, but not at the places they go to on the show. Regardless of that, I love the show, and it has become one of those guilty pleasure addictions for me. hehe It's funny, because I used to have people suggest the show to me, and I would think... nah, I wouldn't like a show like that. Guess I was proven wrong!