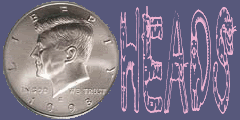 If you click on the graphic above, it will take you to the awesome HoT blog where you can sign up and start participating in this fun and popular meme!
This week is unfortunately the last week for Heads or Tails. It has been a fun and wonderful meme from start to finish - thanks to the hard work of the HoT hostess, Barb. Thank you Barb for everything you put into this meme.
This week's theme is HEADS - Stop *OR* Tails - Go - Make any kind of post using any form of either word. You can even use both.
(c) Misty DawnS
Seasons are constantly changing... stopping and going. Life is full of many seasons, many changes... full of "stop and go". Sometimes, I feel like we're just along for the ride. Life takes us where it wants us to go.

I am sad to see Heads or Tails have to stop. However, we all certainly had a fun time while it was going. Barb, thank you for all your hard work with this meme. I know personally that it isn't easy-going keeping a meme running. Now, my friend, you need to stop and focus on what is most important - YOU! I'll miss your meme, but I'll be comforted knowing you are taking care of what is most important.