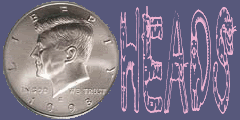 If you click on the graphic above, it will take you to the awesome HoT blog where you can sign up and start participating in this fun and popular meme!
The theme for this week is Heads "One" or Tails "Won".
(c) Misty DawnS
Matouk is truly one of a kind.
Like me, he likes to be one with nature.
He's won the hearts and respect of everyone he meets.
He and my dad are one of the best canine/human pairs ever.
He has definitely won me over.
After one week of watching Dad and Matouk interact with each other,
when it comes to the battle of the wills and being stubborn,
I think Toukie has won.